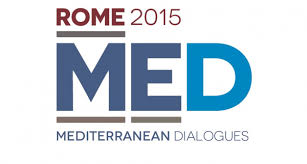 "Med 2015″ An international convention in Rome
"Med 2015″ An international convention in Rome
https://euromediter.eu/wp-content/uploads/2020/06/RomaMed2015.jpg
307
164
Euro Mediter
https://euromediter.eu/wp-content/uploads/2020/06/RomaMed2015.jpg
From 10 to 12 December it took place the Conference "Med 2015 – Rome Mediterranean Dialogues", organized by the Ministry of Foreign Affairs and International Cooperation and the ISPI.
The topic of this year was "Beyond Turmoil, a positive agenda". It was focused on current challenges and changes the Mediterranean scenario, currently considered the epicenter of international disorder.
According most of the speakers, the priority is the defeat of Daesh and violent extremism and setting a new regional order built through diplomacy, partnership and co-development with the goal of returning to the Mediterranean to consider an area of opportunity.
In Rome MED 2015 several kings, presidents and reps of many countries: the King of Jordan Abdullah II, the Tunisian Prime Minister Habib Essid, the Russian Foreign Minister Sergei Lavrov, the Foreign Minister of Qatar Khalid Bin Mohammed Al-Attiyah, the Lebanese Minister of Interior Nouhad Machnouk, the Egyptian Investment Minister Ashraf Salman, the Moroccan Energy Minister Abdelkader Amara, the Algerian Minister for Maghreb Affairs Abdelkader Messahel, the Secretary General of the Arab League Nabil El-Araby, the Chief Negotiators for Palestine and Israel and Saeb Erekat Silvan Shalom, the European Commissioner for Migration Dimitris Avramopoulos, the EU High Representative for Foreign Affairs and Security Federica Mogherini, the Executive Director of UNDP Helen Clark.
For further information visit the official website of the conference
http://rome-med.org/