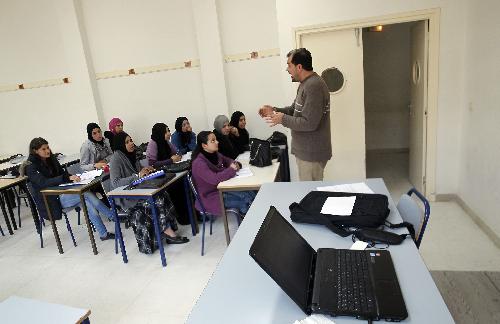 Change management: in Algeria training sessions to support help universities
Change management: in Algeria training sessions to support help universities
https://euromediter.eu/wp-content/uploads/2020/06/formazione_algeria.jpg
500
324
Euro Mediter
https://euromediter.eu/wp-content/uploads/2020/06/formazione_algeria.jpg
At the end of March 2014 the first two sessions of a training devoted to management of change was organized in Algeria by theEU-funded Support Programme to Higher Education in Algeria.
Fifteen local pilot project operators of the Algerian universities of Blida, Bab-Ezzouar, Oran, Constantine and Annaba attended the event, which lasted 4 days.
The participants exchanged their points of view and experiences on the implementation of the pilot projects in the framework of the Support Programme to the Sectorial Policy of Higher Education and Scientific Research (PAPS-ESRS).
Source: EU Delegation to Algeria
http://eeas.europa.eu/delegations/algeria/press_corner/all_news/news/2014/26032014_fr.htm