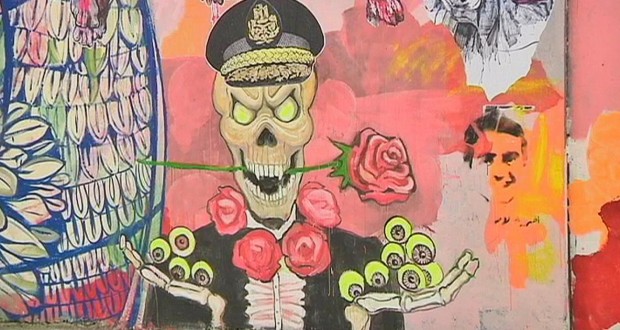 Graffiti boom in Cairo reflects the mood on the Egyptian street
Graffiti boom in Cairo reflects the mood on the Egyptian street
https://euromediter.eu/wp-content/uploads/2020/06/1200x630_249330_graffiti-boom-in-cairo-reflects-th-620x330-1.jpg
620
330
Euro Mediter
https://euromediter.eu/wp-content/uploads/2020/06/1200x630_249330_graffiti-boom-in-cairo-reflects-th-620x330-1.jpg
Mediter is glad to share with its readers a piece of news from the website Euronews.
In the Egyptian capital Cairo, the mood of the city is written on its walls.
Egypt's street-art movement has enjoyed a new lease of life since the 2011 Revolution. Mystical, angry, hopeful or irreverent – many of these works draw inspiration from the art of ancient Egypt.
For many Egyptians, graffiti enjoys a freedom state-controlled media doesn't – they see it as a way for ordinary Egyptians to pass on their message to fellow citizens.
"It is very important for us to be able to draw the ideas that we defend and the goals we have onto these walls, people can see our work as they walk by, it gives them a better understanding of the situation," said graffiti artist Mohammed Khaled.
By its very nature, graffiti art is a form of resistance. As events unfolded in Egypt, they were documented on the walls of the city.
Recently, authorities whitewashed a mural that had become an international shrine to anti-establishment street art. A memorial to hatred of the army and of the police and to the rebellious spirit unleashed by the uprising, the painting paid tribute to the martyrs of the revolution. The day after the clean-up, graffiti artists gathered to restore it.
But now Egyptian street artists could facing fines or even prison sentences if a new draft law banning so-called "abusive" graffiti is passed.
"More than two years after the uprising, the message contained in these colourful and diverse paintings is clear: the revolution is not over," says our correspondent in Cairo, Mohammed Shaikhibrahim.
Source: Euronews http://www.euronews.com/2013/12/11/graffiti-boom-in-cairo-reflects-the-mood-on-the-egyptian-street/