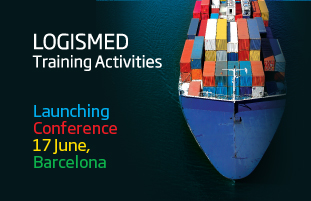 LOGISMED Training Activities
LOGISMED Training Activities
https://euromediter.eu/wp-content/uploads/2020/06/web-small-banner2.jpg
311
201
Euro Mediter
https://euromediter.eu/wp-content/uploads/2020/06/web-small-banner2.jpg
In December 2013 the project LOGISMED Training Activities (LOGISMED-TA) entered its implementation phase. The UfM Secretariat will now assume monitoring duties, as foreseen in the project lifecycle of the UfM Secretariat.
The project was launched in Barcelona in June 2013.
LOGISMED-TA is promoted by the European Investment Bank and funded by the European Commission and the Deauville Partnership Fund. It endorsed by the 43 member countries of the Union for the Mediterranean,
LOGISMED-TA will streamline the flow of trade and enhance the competitiveness of the logistics in the region, complementing existing training programs and supporting Mediterranean partners in their efforts to improve the qualifications of personnel in the logistics sector.
The project is labelled UfM. It aims to increase training facilities at national level and improve the qualifications of operators and managers of logistics platforms, with a view to generating valuable and skilled human resources to operate the platforms.
The training activities will be addressed to logistic and transport enterprises (offering logistic services), loaders (demanding logistic services), operating staff of the platforms in five levels of professional categories, platform managers, as well as the public sector of the Mediterranean partner countries.
LOGISMED-TA will be implemented in ten Mediterranean Partner Countries and in five logistics platforms.
More information about LOGISMED-TA on the UFM website: http://ufmsecretariat.org/ufm-labelled-project-logismedta-to-contribute-to-the-creation-of-jobs-in-the-region-2/