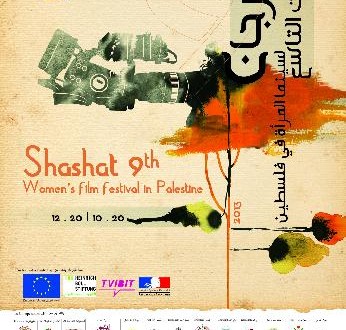 Shashat Women's Film Festival
Shashat Women's Film Festival
https://euromediter.eu/wp-content/uploads/2020/06/shashat-film-festival-346x330-1.jpg
346
330
Euro Mediter
https://euromediter.eu/wp-content/uploads/2020/06/shashat-film-festival-346x330-1.jpg
"Shashat Women's Film Festival" (www.shashat.org) will take place from 20 October until 20 December in 20 cities and 6 refugee camps across Palestine.
The festival bridges geographic and political boundaries through its shared cinematic vision.
The initiative is implemented by the "Remnants" project, supported by the European Union.
During this 9th edition of the festival, 10 films will be screened and 14 women filmmakers from the West Bank & Gaza Strip will partecipate. Furthermore there will be 100 screenings and discussions in collaboration with 22 organizations and 7 universities, and 3 satellite TV programmes.
There were two Openings: in the Gaza Strip at Rashad Shawwa Auditorium on October 24 and the other at the Ramallah Cultural Palace on Sunday 27 October.
Alia Arasoughly, Director General of Shashat, says: "This edition of Shashat's Women's Film Festival is a cry by young women filmmakers of NO! Enough to destroying ourselves…enough to hiding our head in the sand. They are forcing us see and hear what burden we are bequeathing the younger generation".
The young women filmmakers taking part at this Festival tell stories about what they wish the society to reject: stereotyping of women, the visual and verbal harassment which rapes women, the marginalization of elderly and handicapped women, the destruction of youth's potential through unemployment, the pollution of the sea of Gaza and the mountains of Hebron.
"Remnants" is a film project which has received major funding from the European Union, with additional funding from Heinrich Boll Foundation, TVIBIT and the French Consulate General of Jerusalem.
The EU-funded Euromed Audiovisual III programme aims to contribute to the development and strengthening of the capacity of the film sector in the ENPI South region (Algeria, Egypt, Israel, Jordan, Lebanon, Morocco, Occupied Palestinian Territory, Syria, Tunisia) and to contribute significantly to mutual understanding, intercultural dialogue and cultural diversity, in line with the "Strategy for the Development of Euro-Mediterranean Audiovisual Cooperation" approved by Euromed culture ministers in Athens in May 2008.
For any further information please check the Shashat Women's Film Festival website www.shashat.org